Mining Magazine £1 trial (30 days, up to 3 users)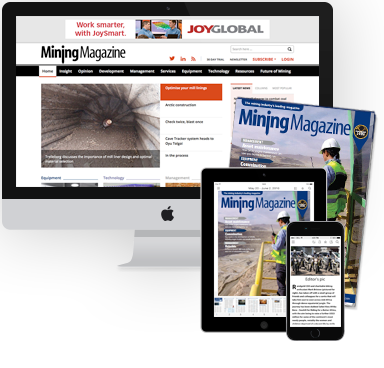 After the 30 day trial, your subscription is paid in monthly installments at a rate of £64.00 per month and can be cancelled at any time. You may add up to 2 additional users to your account.
The 30 Day Trial digital subscription includes:
Market leading coverage of new technologies and trends affecting the way in which mines are managed and operated
In-depth and unrivalled reports on the most successful/innovative mining operations
Insight on new mining equipment and management techniques to help mine management improve/advance their operations
The most insightful and interesting interviews with industry figureheads and subject matter experts
Exclusive columns on a regular basis
Unique onsite reporting from key industry events
Terms and Conditions
*VAT (where applicable) will be added. After the trial ends, the price will revert to standard monthly rate above (+VAT where applicable).

A standard subscription to Mining Magazine entitles the subscription account holder and two additional colleagues, access to the standard news and content within the magazine(s) and website(s). Website user licenses and login details for Mining Magazine are for use only by the three specified account holders, and are not to be shared or used to provide access to further users on a network.
Your subscription is a flexible arrangement, as such subscription length and rates are not locked in.

**You can cancel your subscription at any time and we will stop payment from the next payable date. If you do not cancel your subscription, we will continue to take payment each month at the standard digital monthly rate. To cancel your subscription you will need to inform us at least 10 days before your next payment is due to be taken.
Aspermont will not, under any circumstances, provide a refund for Aspermont Publications received by you.
**New users are only permitted to have one $1 trial in any twelve month period.